Journal Entry:
Fri Jan 6, 2012, 7:43 AM
All prices have been raised as my free time is limited and doing lots of cheap art makes me not want to offer commissions at all. I feel that my prices are still very reasonable for the amount of work that goes into the art.Please note that paying in points will cost you 100 points to every dollar. Thanks!

Pixels
Small
50x50 icons // $3.00




Animated (currently only available in small) $4 - 6 depending on complexity CANNOT ACCEPT ANIMATION COMMISSIONS AT THIS TIME AS IAZA IS BEING HORRIBLE



Medium
Unspecified size // $5.00




Large
200x200 // $8.00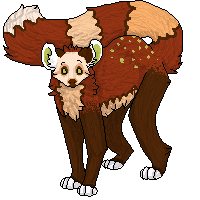 Furcadia Ports
95x95, character + background + shading // $7.00




Other

Full Picture // $15.00 - Add $2-5 per additional character depending on complexity
Character, background, shading, etc.



Simple + Shaded // $7.00
Character, shaded. Background can be solid, textured, or transparent.



Sketches // $2.00
Up to 3, any color, transparent or white background



If there's something you want but don't see, ask me about it! c: